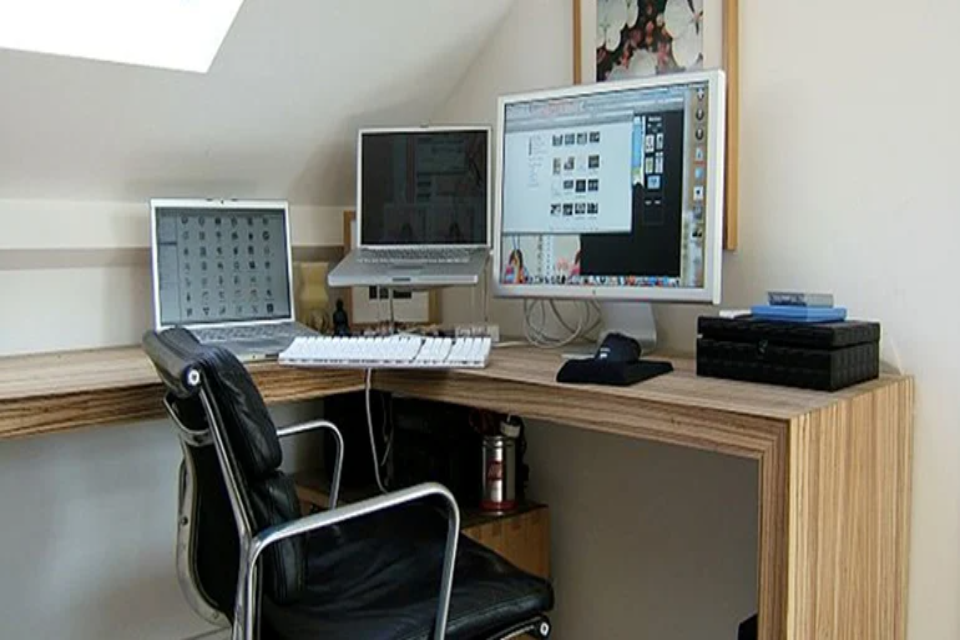 Goodbye, Cubicle: Tips to Create a Productive Home Office
Telecommuting has become the norm for many companies, but in 2010, McKinnon-Mulherin took it a step further and became an entirely virtual company. As an office without borders, we have flexibility and an international presence. Employees may work on-site with a client, off-site at home, or a combination of both. We also have employees in different time zones, making us more agile in handling early and late requests. When I was a new employee, transitioning from a cubicle to my home office was an adjustment. But now, I wouldn't have it any other way. I am more focused and have a better work-life balance. My home office allows me greater flexibility, which then extends to clients, making it easier to work odd hours or quickly jump on a new project even if I'm not "in the office" at the time.
Not only am I adaptable, I'm productive: according to a Stanford University study, I'm at least 13 percent more productive than in-office employees. While we're on the subject of productivity, here are my top five tips to create a productive home office.
1. Find your spot.
You might be tempted to set up camp in the living room with a nearby coffee table, but you'll be most productive in a dedicated work space. Find a room you can control. A spot like this will minimize distractions and keep you focused. You can then decide if you want silence or your favorite work-mode playlist in the background.
2. Invest in your office chair.
Resist the urge to use a dining room chair just because it's nearby and available—the same goes for that old computer chair that's been tossed around your place for years. Invest in a good and comfortable office chair. With all that sitting, you need a chair that offers the right back support and promotes good posture and circulation.
3. Declutter often.
Things have a habit of collecting in home offices. Before you know it, your office is cluttered with personal bills, laundry, dog toys, and that treadmill you used twice. Make it a habit to purge your home office and avoid using the space for storage. Think of this space as a work zone, where only work-related clutter is allowed.
4. Lighten up.
One thing I noticed right away when I started working from a home office was the lighting. Most homes, especially if you're working out of a bedroom, don't have adequate lighting for an office. You'll want good light for that videoconference today or the proposal due at midnight tomorrow that may need last-minute changes. Whether it's night or day, an easy and inexpensive solution is to buy a lamp—one that can be adjusted but doesn't take up too much space on your desk.
5. Buy and maintain the right tech.
When you work remotely, there's a good chance you use a laptop as your primary computer so that your work can travel with you. When you're in your home office, however, nothing's worse than slouching over a small laptop screen. Consider buying a laptop stand or even getting a second monitor. Remember that old computer chair I mentioned? Determine how old your technology is too. Instead of wasting time trying to troubleshoot old tech, it may be time to buy new devices.
You may have already discovered that working from home means there's no IT person who can swing by your desk to see your error screen. Luckily, our company has an assigned IT guru as well as a contracted managed IT services company, but you'll be most productive when you can learn how to keep your system and antivirus program up to date, back up files, and fix simple errors on your own.
It sounds simple, but with the right chair and technology and a dedicated, well-lit, and decluttered room, you will have created a productive home office. You'll never want to see a cubicle wall again.
Steven joined McKinnon-Mulherin in 2016. In his role, he takes on many different admin, operational, accounting, HR, and IT tasks as well as client proofreading and editing requests. He loves a good book, movie, or salsa.